At Family Films we believe in creating shared family experiences. Together we will make your own unique family movie. We will write a custom made script together, and then you will all act in the movie yourself. You will get to spend time together with your family, deepening bonds and having lots of fun! The resulting movie will be a wonderful document of this special time that will bring you joy for the rest of your life.
Take a look
Here is an example of a movie we made. We can make a movie for you with the same quality. Of course set to your family. And it can be any genre.
 The Family Films Team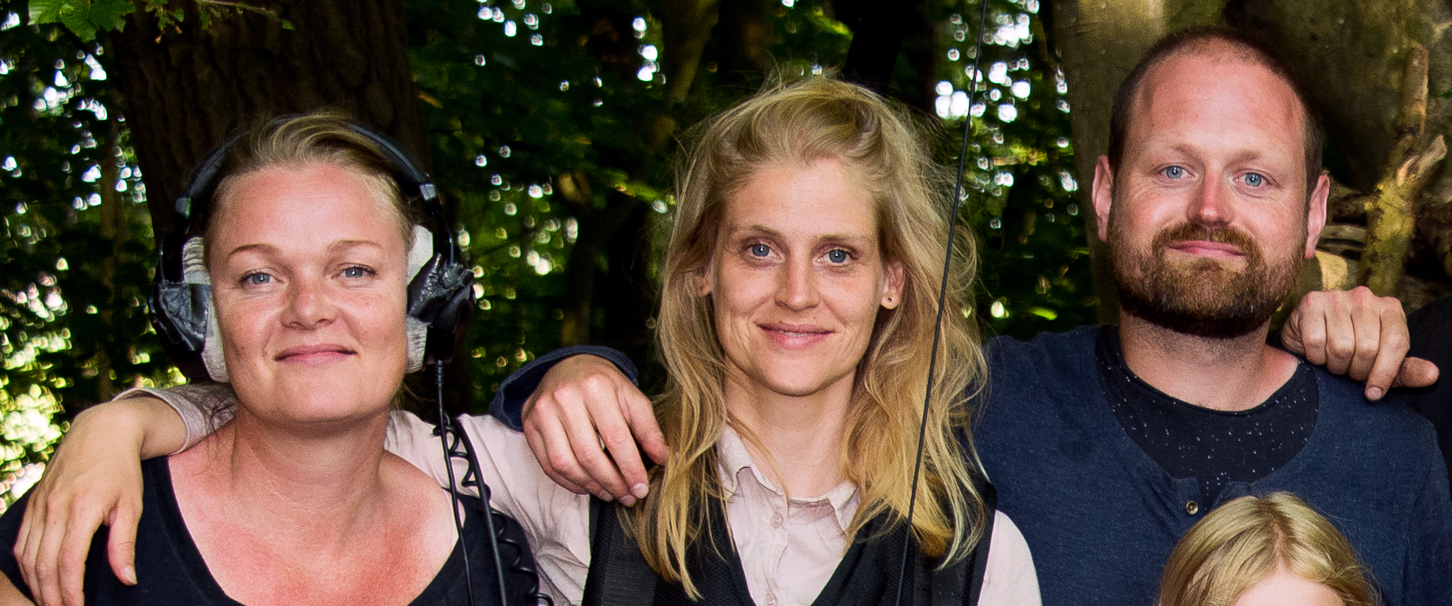 The family film team consists of a family! Oscar Eva and Astrid. Oscar is the movie coach who will make the script with you and coach you with the acting. Eva is camera woman extraordinaire. Oscar and Eva have a little family together with their little boy Sam. Astrid is part of Oscar's extended family and does lots of fun stuff like make-up and sound recording.
Oscar has a bachelors degree in psychology from the UvA. He has developed himself as a director over the last five years.
Eva studied filmmaking at KASK. She has done camera work for multiple television documentaries. Her own documentaries "Cocon" and "Met alles wat er is" both premiered at the Netherlands Filmfestival.
Astrid studied visual arts at the Amsterdamse hogeschool voor de kunsten. Besides her work for Family Films she is also a graphic designer specialized in hand lettering.

The process
1: Oscar will visit your family for a script brainstorm session. Here we will explore your unique family qualities on which we will base the script. If we don't finish the script in this session Oscar will finish the script later. This session will take about 3 hours and can take place at a time suitable for your family. This includes weeknights and weekends.
2: Oscar will visit your family again for a dialogue and rehearse session. We will write and rehearse the dialoge and talk about the preparations. This session will also be about 3 hours and can also take place at suitable time for you.
3: The day of the shoot. The whole family films team and your family will meet at the location of the film. Depending on the script this could be your house or somewhere else. We will shoot the entire film in 1 day of movie making adventure.
4: Oscar will edit the movie and create a soundtrack for it.
5: The Big night! The movie is finished and you can enjoy watching your own family in the movie. If you want you will be able to easily share your movie with family and friends through the family films website. You will also get the movie in a high resolution file, enjoyment for many years to come! The movie will be approximately 10 minutes long, excluding the hilarious blooper reel.
Interested?
Please feel free to contact us if you have any questions or would like to make a movie with us.
Email: oscar@familyfilms.nl
Telephone: 06 413 47 467